Philips Home theatre systems
Philips Home theatre systems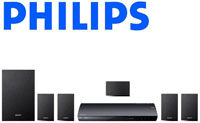 We at Philips understand the importance of sound. It's what sweeps you up and carries you away. That's why every product in our range is made to transport you into right into the movie scene or front row at your favourite concert with immersive, rich surround sound.
We can't find products matching the selection.
Compare Products
You have no items to compare.
My Wish List
Last Added Items
You have no items in your wish list.