Questions other people have asked about this Product.
No Questions yet
Key Features


2.4" swipe and tap touch screen


Back-lit buttons for convenient navigation in the dark


Sculpted, ergonomic shape and streamlined button layout


Your remote recharges in the included charging station


Controls up to 15 devices


Works with up to 225,000 devices and 5,000 brands


System Requirements


Windows® 8, Windows® 7, Windows Vista®, or Windows® XP


Mac OS® X 10.5 or later


Requires USB port and Internet access


Package Contents


Remote control (with built-in battery)


Charging station


USB cable


AC adapter


User documentation


There was a time when your standard remote was enough. Today, home entertainment is anything but standard. There are more devices, more channels and more options than you could ever have imagined. That's why Logitech is rethinking the remote with the Harmony Touch.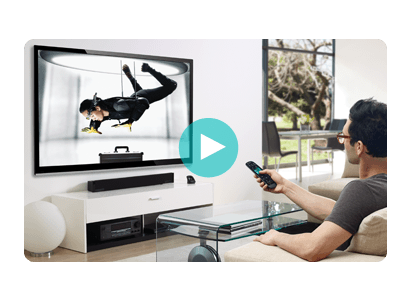 Intuitive touch screen
Enjoy fluid, one-touch interaction with a vibrant, color touch screen that allows you to quickly swipe and scroll to your favorite entertainment options. TV channels, movies, games, music—all with one touch.*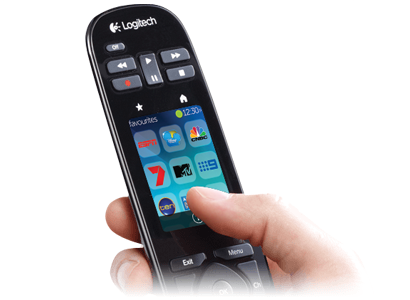 Customizable channel icons
Say goodbye to lengthy menu scrolling and channel number memorization. With 50 easy-to-customize channel icons**, you and your family can access all of your favorite channels with a simple tap. Just select and save your favorite channel icons from a list on myharmony.com on to your remote or create unique favorite icons using your own personalized images.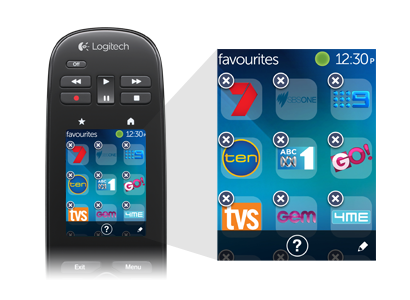 Sleek, streamlined design
The sculpted, ergonomic shape and streamlined button layout is a study in form and function. Cradle the gentle curve in the palm of your hand and you'll see what we mean. An added benefit: the sleek and minimalist design enhances the look of any living space. It's as easy on the eyes as it is to use.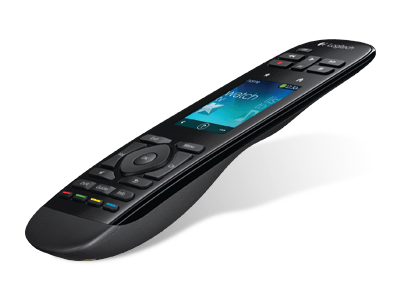 Back-lit buttons for convenient navigation
The low profile, sculpted buttons offer a sleek look and are easy to press. Plus, they are back-lit so you can comfortably and easily navigate your favorite entertainment—even in the dark.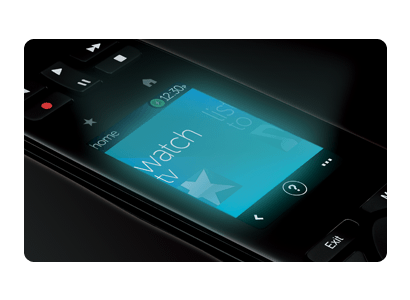 Number pad access on touch screen
We further simplified Harmony Touch by moving the number pad to where it should be: the highly versatile touch pad. This clears the way for comfort as well as a more attractive device.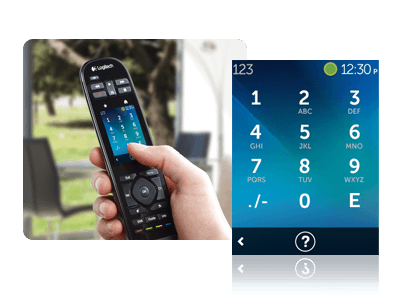 Integrated Skype™ experience with Logitech TV Cam HD
Harmony Touch makes it even easier to connect with your loved ones by enhancing your Skype calls over your Logitech TV Cam HD. Accept and place calls, mute, control pan/tilt/zoom and more, all from one simple-to-use remote.***
Rechargeable
Your remote recharges in the included charging station. Always within arm's reach, you'll never have to search for your remote—or batteries—ever again.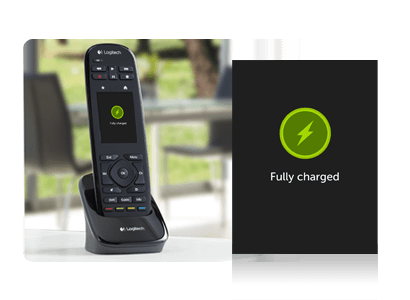 Easy online set up
Connect Harmony Touch to your Mac or PC and visit myharmony.com to identify and sync your devices. Whether you're looking for the basic or advanced customization, Harmony's guided online setup process will make things simple for you.
Shortcut set up for Harmony One users
We know you've invested time and care into your Harmony One setup. It's simple to upgrade to Harmony Touch on myharmony.com. With a few clicks, you can apply the device and activity settings from your Harmony One to your Harmony Touch and shortcut the setup process.**** Jump start your Harmony Touch experience.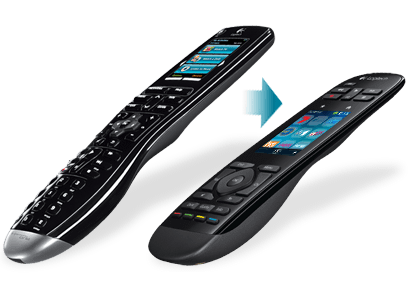 Works with virtually any device - today and tomorrow
Introducing your instant remote control consolidator. Harmony Touch controls up to 15 devices and is compatible with over 225,000 home entertainment devices and over 5,000 brands.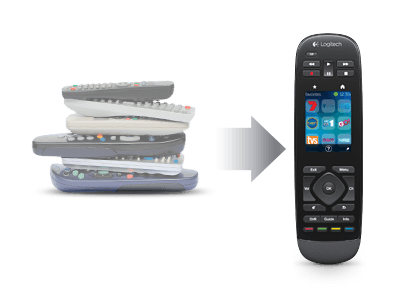 | | |
| --- | --- |
| Short Description | There was a time when your standard remote was enough. Today, home entertainment is anything but standard. There are more devices, more channels and more options than you could ever have imagined. That's why Logitech is rethinking the remote with the Harmony Touch. |
| SKU | 915-000207 |
| EAN | does not apply |
| Gross cubic packaged weight | 5.0000 |
| Country of Manufacture | |
| Manufacturers Warranty | 12 Months |
| Manufacturer | Logitech |
| Free Shipping | No |
Streamaster ship all items listed on our website Australia wide.
All of our shipments are covered by our courier warranty against transit damage loss and theft. Please ensure that you inspect the goods for damage prior to signing for the goods. If in doubt contact us for advice. Small goods are sometimes shipped by Registered Australia post. Please make a product note at check out if you are unlikely to be able to sign for the goods.
*******ALL items MUST be signed for delivery warranty/insurance requirements, please do not ask us to leave items of value on a front door step out of view or around on the back porch as we CAN NOT do this. If no one can sign please use a work address where practical*******
Streamaster also offer the comfort that we are a real shop with a showroom
(our showroom is predominantly for media/high definition and audio products) where you can come and purchase goods over the counter in store. For larger goods such as whitegoods and TVs please order the day before and we will arrange for the goods to be available for pick up. There is no need to pay a deposit and stock transfers are free, but if planning to pick up a product in store we will notify you via email once the goods are ready for pick up.
Warranty: All products purchased come with a manufacturer's warranty.
Your Tax Invoice will serve as proof of purchase for any warranty claim, for white and browngood appliances claims should be taken up directly with the manufacturer. For items that arrive dead on arrival or fail in the first 14 days Streamaster will replace with a new item where possible. Freight to and from metro area will be borne by Streamaster during the DOA period for metro areas of Australia, remote regional area may require local service call by local service center if return is not practically possible. Please check with us at time of order if you are in a very remote location. Outside of the DOA period warranty is return to base where the manufacturer requires the retailer to process warranty claims or will be carried out by an authorised local repairer or in house service call by the manufacturer depending on the product. Most small goods are return to base warranty Streamaster. IMPORTANT *****PLEASE DO NOT THROW AWAY packaging material for at least TWO WEEKS in case of dead on arrival or replacement goods. Goods MUST be returned in original packaging because of courier/warranty insurance reasons. If you dispose of packaging then yoiur goods most probably CAN NOT be replaced, they will be repaired as a normal warranty claim.*****
Unless clearly indicated otherwise, all of our products are Australian supplied product.Streamaster Australia is the authorised importer/distributor of some media player products and other small electronic goods, for these small goods the warranty is RTB Streamaster as we have local technicians that service these products. In the case of a factory returns Streamaster bear the cost of repair under warranty or replacement at our discretion.
International Import Items.
Some products imported to Australia directly by Streamaster MAY NOT be covered in Australia by the warranties offered in the country of origin by the manufacturer. These items are clearly labeled as such and only apply to Watches and Cameras. Under these circumstances the warranty is RETURN TO BASE Streamaster Australia for 12 months following purchase. This means for these products the customer only has to return the product to Streamaster and we will return the product to our supplier at our cost This may delay a normal warranty claim by approximately 7 days. In some cases the manufacturers warranty may be greater than 12 months. In this case streamaster will assist the customer in the return of the product to our supplier after the 12 month period has expired, however the cost of carriage will be born by the customer outside of the 12 month period. Please note streamaster pays GST on these directly imported items hence you will be issued a valid tax invoice for directly imported items. Proof of Purchase is required for all warranty claims and we do log serial numbers of all products sold.
Payment:
Streamaster accepts most forms of payment and most do not attract a Surcharge. However because some forms of payment cost us more than others we charge the difference. Since we build in the transaction fees of Visa and Mastercard there are no Surcharges for these payment methods. For other payment methods such as Amex amounts shown below represent the difference. Please note for orders over $300 Visa and Masterard users may be required to pass basic fraud checks prior to shipping goods. Please avoid using free email addresses, and provide a verifiable shipping address where possible. Direct debit, Paypal, American express require no extra payment processing.
Hence:
Visa : No Surcharge
Mastercard : No Surcharge
Direct Debit: No Surcharge
Paypal: No Surcharge

Amex: 1.5%

.
Streamaster Australia Reward points:
You may apply to be a member of Streamaster Reward points programme if you are aged 16 years or over and have a current Australian residential address. To become an account holder, you must register online, complete the registration form.
The Program is 100% free and enables customers to gain discounts on subsequant purchases from the streamaster website.
Points are COMPLETLY TRANSFERABLE between account holders. You must send us written authorisation to transfer your points to another account holder from the email address used to create the account holding the points. The receiver MUST have already created an account on the Streamaster Australia Website. Please allow 1-2 working days for the transfer to occur as it is a manual process. Please note Streamaster will NOT be liable for any fraudulant use of the account holders email address information.
We may refuse your registration for membership or request for any reason.
Your obligations
Using or accumulating Streamaster reward points during a transaction or registering constitutes acceptance of these Terms and Conditions.
You may terminate your membership at any time and for any reason by contacting us.
Earning points
Points will be credited to your account after completing a Qualifying Transaction by using your user account on the Streamaster Australia Website to purchase goods or services.
The points will only become available for use once the current order has been dispatched +14 Days, IE 14 days AFTER our status registers "shipped" on your user account.
Members can use Reward Points to gain a discount on subsequent purchases. Our system does not allow for instant discounts in store using points from items picked up in store.
Streamaster Australia will reverse points where a transaction is cancelled or a refund given.
Streamaster at its discretion may or may not award points for commercial transactions where volumes have been negociated.
We may correct erroneous, invalid points or adjust for reversed transactions at any time even if it would put your membership account into a negative points balance.
You may check your points balance at any time by logging into your account website or by contracting Streamaster customer service via phone or email. We may also, at our discretion, periodically send you a points summary using the contact details you provided. We may make your points balance available in other ways.
Points do not expire unless you:
Do not earn or redeem any points on your account for a period of 12 consecutive months, then your points will automatically expire and we may also close your account. We may not contact you to advise you of this.
Streamaster Australia will transfer reward points to any other member only with written consent of the owner of the Reward points. The receiving member must have created an account on the Streamaster website.
Streamaster Reward points and have no cash or monetary value and we reserve the right to vary the discount made as a result of accumulated points at any time. Monetary discount are only valid at time of redemption.
General
We may, in our discretion, make any change we see fit to these Terms and Conditions, including, without limitation:
the range of Qualifying Transactions;
the points you can earn on Qualifying Transactions;
the range of rewards and the number of points required for rewards or discounts;
the period for expiry of existing or future points or Dollars in your account.
We will give you notice of any change to the Terms and Conditions or as set out in 5.1, at our sole discretion:
via the The Streamasterwebsite; and/or
by direct communications sent to account holders.
In addition to the right to terminate, we may terminate your account immediately and without notice where you or an additional member:
fail to comply with these Terms and Conditions;
provide misleading information or make any misrepresentation to us or to any Participant in connection with Streamaster Rewards
are abusive or offensive to any of our or our Participants' staff
Where your Streamaster account is terminated, you will cease to be entitled to earn and redeem points and your points will be deleted.
Respecting your personal information is very important to us. The Streamaster Privacy Statement forms part of these Terms and Conditions. The Streamaster Privacy Statement sets out what personal information we collect, how we use it, to whom we may disclose it and what your privacy choices are. Our Privacy Statement is available on the Streamaster website or on request from the Streamaster Customer Service.
We will not be liable to you for the termination of the Streamaster Reward points for any reason whatsoever, including (without limitation) for any points or in your account at the time of termination.
Any liability we may have to you in negligence, breach of contract or otherwise, and all conditions and warranties as to the condition, suitability, quality, fitness or safety of any goods or services supplied by Streamaster whether express or implied by statute, are excluded to the extent permitted by law, and, where liability cannot be excluded, our liability to you will in all cases be limited to:
the cost of re-supplying the goods or services or repairing, or paying the costs of repairing, the goods;
reinstating number of points in dispute; or,
where the dispute relates to a reward, the number of points required to redeem the reward.
Any tax, liability, or duty incurred by a member arising from a member's participation in the Streamaster program is the responsibility of the member.
Nothing in these Terms and Conditions limits your rights under the Australian Consumer Law.